By Bruce Schindler
I love mammoth tusks. I love their grandeur! I love their immense size and elegant double curve. I love the beauty of mammoth ivory with its rough, stained outer texture and the creamy inside with its carbon fiber-like cross-hatching and rich colors. And I love the stories they tell of their Pleistocene past, of their cold storage in the frozen soils of the north, and of the gold miners who unearth and care for them. I especially love, of course, how mammoth ivory is brought back to life by artists and conservators.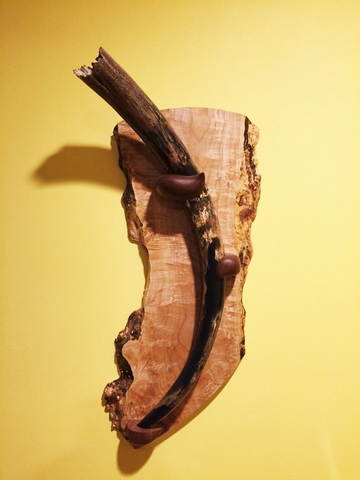 Our mammoth tusks come from the goldfields of Dawson City in Canada's Yukon territory. If you watch "Gold Rush" you've seen these fields. I encounter a lot of mammoth tusks in my forays into the Klondike goldfields, occasionally, tons of them. The miners stumble across them as they dig for gold. Mammoth ivory will rot in the goldfields where it's found if it cannot be sold. Miners protect and preserve tusks when they find them.
The subarctic ground up north is permafrost; it's been permanently frozen for tens of thousands of years. Anything buried in this ground, such as these tusks, is preserved in a natural, permanent, deep freeze. That's how these tusks have survived so well for 35,000 years.
But they are not perfect. Most mammoth tusks we find are partly rotten pieces or broken by dozers and excavators. We still prize these pieces because they are excellent for carving. Occasionally though, we find a tusk that's completely intact or only slightly damaged. These are rare and highly cherished. But these tusks still need work, as you can imagine, after tens of thousands of years entombed in the frozen muck.
Mammoth tusks carry a rich history. A tusk that once served the mammoth as a weapon, a shovel, a forklift, or as a nurturing nudge to another mammoth, now serves as a modern-day storyteller. To stand beside and touch a well-restored mammoth tusk fires up the imagination and sense of awe that these creatures really did exist. They were elegant and enormous.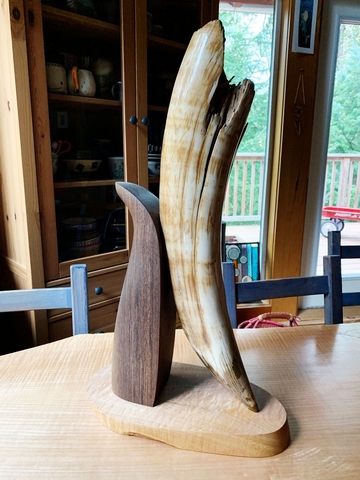 In a way, restoring a mammoth's tusk brings that animal back to life. I use WEST SYSTEM® products in my tusk work. These epoxies have nearly zero shrink, they are consistent, and the technical support is solid. I rely heavily on the 105 Resin® and 206 Slow Hardener®. The 206 gives me just the right amount of working time when filling thick gaps and rebuilding smaller tips.
I believe that honoring and using the remains of long-extinct mammoths celebrates their stories and educates us on the value of our living elephants. It highlights how precious and fragile life can be. Therefore, I believe mammoth remains must be used, preserved, and honored, and that living elephants must be protected. The survival of each go hand-in-hand.
Let's continue doing our part to see the protection and survival of elephants and other threatened animals of East Africa while also doing our part to preserve what remains of our extinct mammoths.
Bruce Schinder lives in Skagway, Alaska. Learn more about how he's preserving mammoth tusks at preservationmammoth.com
To learn more about Bruce Schindler's mammoth tusk restorations, visit Preservation Mammoth.