Handcrafted Furniture
Growing up in Wesley Hills, New York, Michael Fitzpatrick was influenced by his grandfather, a furniture maker and housewright. He set up his own studio in Boston a few years ago and makes exceptional, handcrafted furniture to order, like the lounge chair (above). He uses WEST SYSTEM Epoxy for most of his projects, especially the bent laminated pieces. He also just purchased a COZY license and is considering using epoxy for the experimental airplane. Visit his website for more information about his handcrafted furniture. www.bostonfurnituremaker.com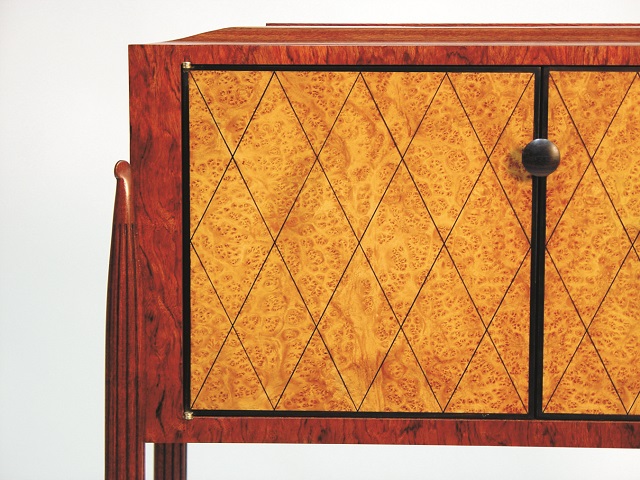 ---
The New BC27 Placed 1,1,1,1,2,1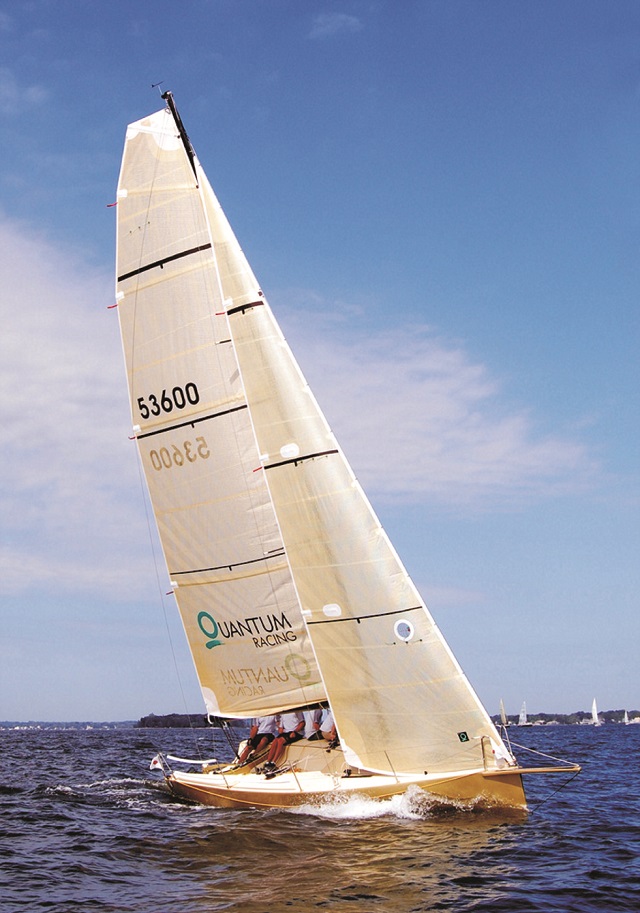 The first boat Brian Jones designed and built was published in Epoxyworks back in 1993. He recently completed his second design and build, the new BC27. The hull is hand laid S-glass and Kevlar over ATC Corecell using WEST SYSTEM Epoxy. The bowsprit, tiller, and foils are carbon with Pro-Set epoxy used in the keel. Overall displacement is 2400 lb. with 1200 lb. of that being the lead bud. Its inaugural regatta was Annapolis Race Week, where he placed 1,1,1,1,2,1. More information can be found on Jones' website, www.bcboatworks.com.
---
The PREMA 161

Steven Hirsh designed and built this 16'1" skiff. This is his second prototype of this boat. There are also 12′ and 14′ prototypes in the works. The new models and the 16- footers will all be convertibles. That is sailing rigs have been designed for them that incorporate a half-wishbone boom cypress and pivoting cypress mast. The PREMA 161, the model shown here is built of three layers of 4 ox fiberglass/ epoxy over western red cedar, with an ash, sable and cypress accent stripe. The beam is 4′ 6″ and the eight is 190 lb, with a maximum weight capacity of 561 lb. Contact Steven Hirsh, Deleon Springs, Florida, 610-462-3664.
---
QUETZAL, a single-handed sailing dinghy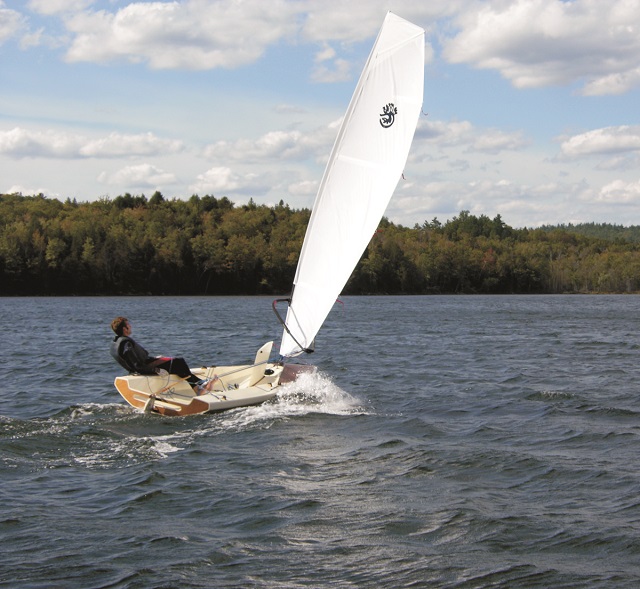 QUETZAL is a 13′ 5″ single-handed sailing dinghy designed by Eric McNcholl for stitch and glue construction. It is a product of the Gatineau Hills Boatworks in Alcove, Quebec. Owners Frank Berinstein and Eric McNicholl estimates 200-250 man – hours to complete the project. They say it is a head-turning beauty with lots of horsepower. For more information on QUETZAL and Gatineau Hills Boatworks, visit www.ghboatworks.com.
---
G/ Flex 655 Means Lifetime Warranty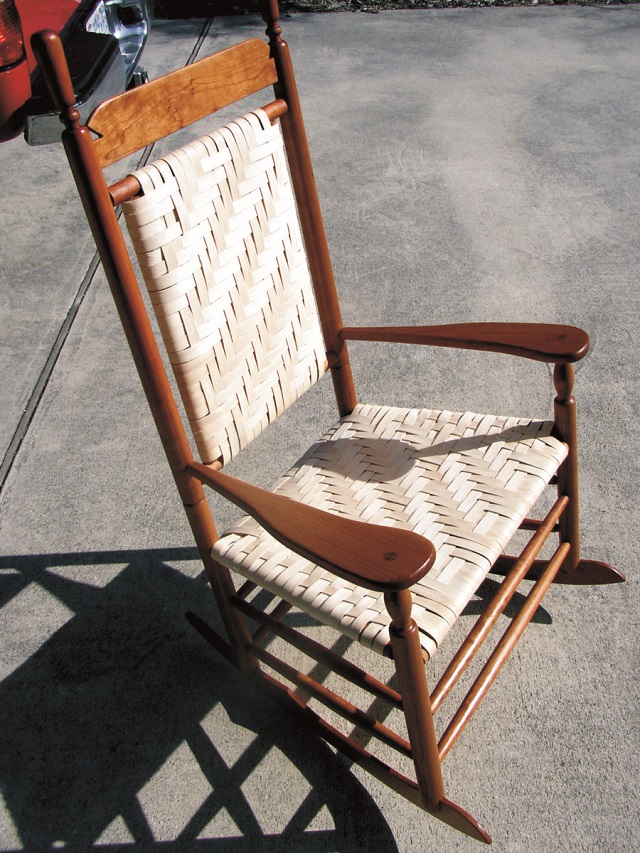 Jerry Heller of Southport, North Carolina, sent this photo of his latest project. He used G/ Flex 655 to build this cherry rocking chair for a church fundraiser. He said he used G/flex on this piece of handcrafted furniture because the chair comes with a lifetime warranty so he knows it will stay together.
---
Red Cedar Wherry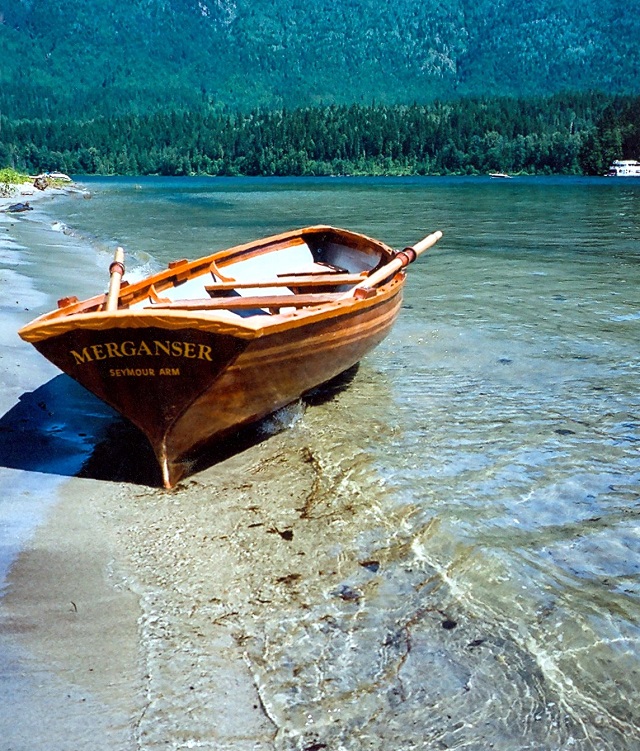 Bruce and Pam Barrett of Kamloops, British Columbia built this "wherry" type rowing boat. Weighing a mere 80 lb, it is constructed of western red cedar and fir, cut from the family homestead. Bruce reports that the boat rows great—on one pull of the oars it takes off like a scalded cat. The photo was taken on Shuswap Lake in British Columbia.
---
Dejavu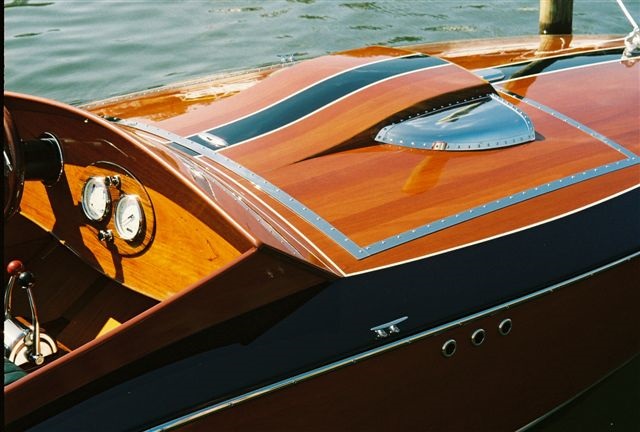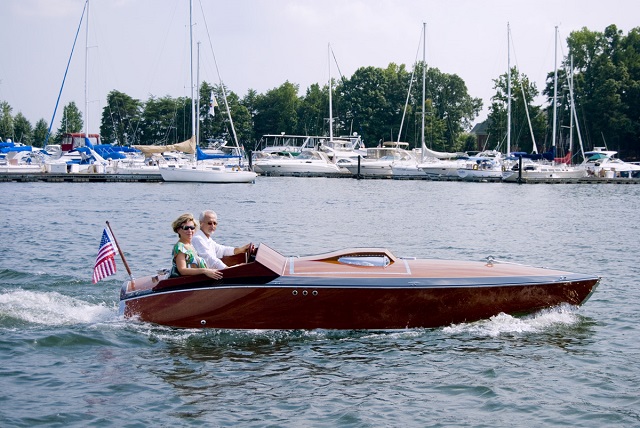 Dejavu was built on mahogany frames. Meranty plywood was applied over the frames with bronze screws and WEST SYSTEM Epoxy. Mahogany planking was applied over the plywood and the entire hull was encapsulated with epoxy. The exterior of the hull was covered with 12 layers marine varnish, then sanded with 2500-grit sandpaper hand buffed. Alex Neymark of Charlotte, North Carolina, spent five years (part-time) building Dejavu.