Laminated Denim Knife Handle Material
Knife makers Cliff Fendley and Mike Carter decided to try their hand at making laminated denim knife handle material. After some research, they chose to use WEST SYSTEM 105 Epoxy Resin with 206 Slow Hardener to laminate pieces of denim fabric into blocks from which they could machine knife handles. Mike first made a 5″ x 7″ piece about 1/2″ thick with alternating front and back layers of blue jean denim. Cliff made a 1″ thick 5″ x 5″ Piece from faded blue jean and 1″ thick 5″ x 5″ piece from faded blue jean and a 1″ thick 1″ x 7″ piece from alternating layers of tan and black denim which he twisted before pressing.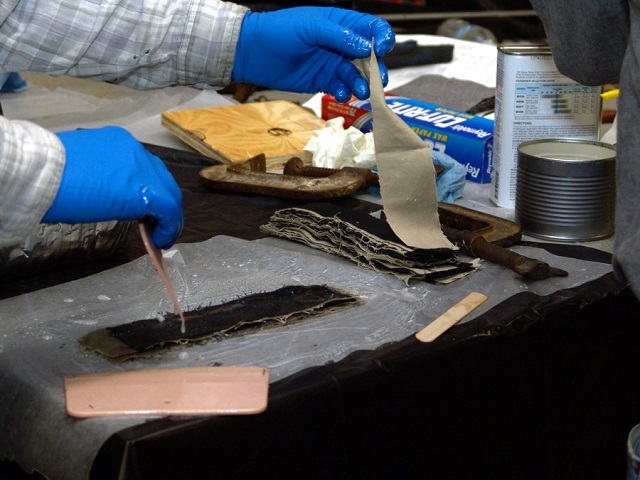 Mike mixed and poured epoxy into a baking pan while Cliff saturated the pieces and transferred them to the press block. Mike would then squeegee each layer as it was put on the block. Cliff would soak up the excess run-off epoxy with the next piece of material to be used and put it into the pan. This assembly line approach worked very well and they were able to quickly and efficiently saturate and stack the layers with very little waste. After the material was saturated and stacked, they wrapped it in wax paper and clamped it between pieces of plywood. They measured the height of each corner as they tightened the clamps to ensure uniform thickness across the piece.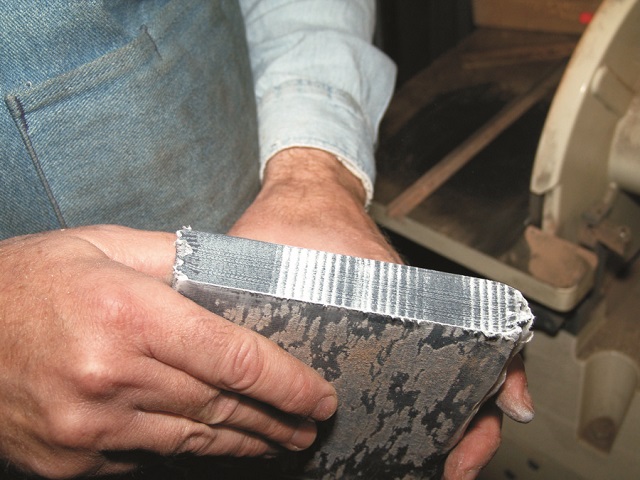 After examining and machining the cured laminate they were very happy with the outcome. Cliff says on his website, "the laminate we made with the WEST SYSTEM Epoxy looks great and appears to be extremely tough. It cured crystal clear and we were impressed with how tough it was when we beat the heck out of a scrap piece with a hammer. It cuts, sands, and polishes very well." To see their finished knife handle products, and more on how they were made, visit fendleyknives.com.
---
Compliments on The Lake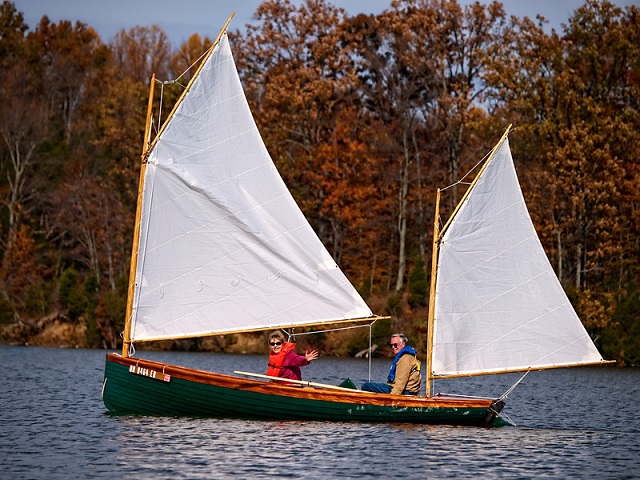 Maynard Bray and Doug Hylan provided the plans for this sailboat originally designed by N.G Herreshoff. Paul Wenner built it of marine plywood over steam bent white oak ribs with mahogany keel, transom, and sheer strakes. The boat has a LOA of 16′ 8" with a beam of 5'0 and weighs about 400 lb. The entire boat was constructed using WEST SYSTEM 105 Epoxy Resin with 205 Hardener and 403 MicroFibers. Paul tells us that the epoxy was very easy to work with and he appreciated the low odor because the construction was all done in the basement of his own house. "It was a lot of work (about 1000 hours) and cost more than a good used boat of its size, but it was worth it, especially when I get compliments on the lake." Paul lives in Cincinnati, Ohio. "Not exactly the sailing capital of the world, "but I find a few small lakes to sail.
---
Homemade Shrimping Net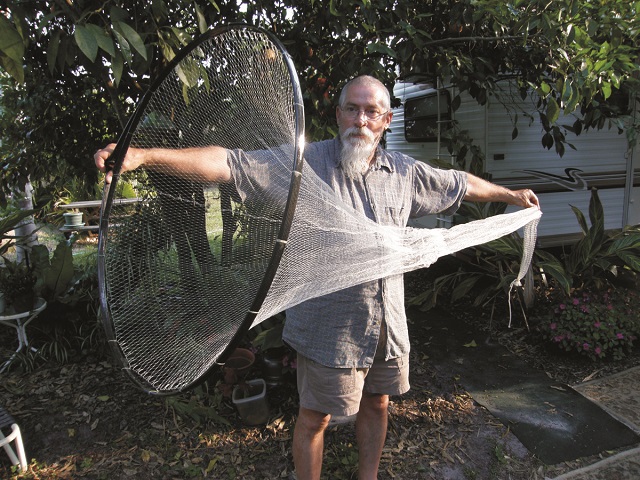 Bill Ling shows off the shrimping net he built of carbon and WEST SYSTEM Epoxy. It's attached to a 10′ handle for reaching the water from a pier as the tide flows by. The thin, ovalized cross-section helps him hold the net against the tide. He says he recently caught a 7″ shrimp with it near his home in New Smyrna Beach, Florida.
---
1890 Hooper Island Replica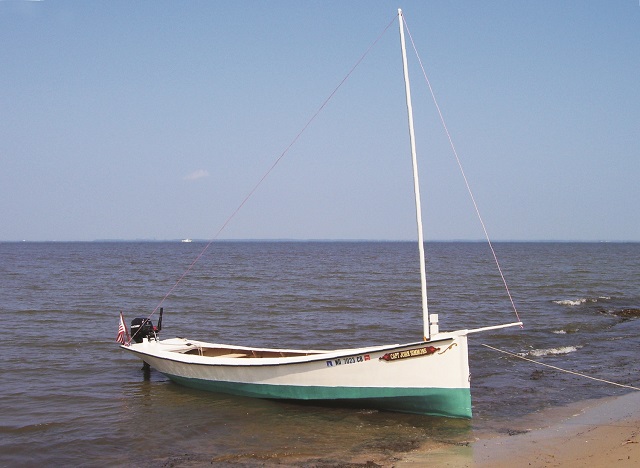 Captain Jeff Robinson of Rock Hall, Maryland, Recently completed a replica of an 1890 Hooper Island (Chesapeake Bay, Maryland) crab/fishing skiff. Measurements were taken from the original skiff and sharpies. He built a scale model to develop offset and check measurements. The skiff is constructed of 1/2″ marine plywood over oak and yellow pine frames using WEST SYSTEM Epoxy. Modifications were made to accommodate a small outboard. It is 20′ 2".
---
Fixing a Crack with Epoxy

Greg Habas, of Georgetown, Texas, made the coffee table out of black walnut and live oak. The central base is a section of a trunk, which developed a large crack as it dried. Rather than try to mask it, he decided to make it even more prominent with color. Greg phoned our tech department for advice and was told that both Tempera paint powder or RIT Fabric dye would work. He bought some RIT dye and say it worked perfectly! "It doesn't show in the photo, but some of the flakes of the dye did not dissolve completely, leaving tiny Flacks of darker blue, very interesting." Greg says, "My next project will be an 18′ Catboat that will be planked using the composite method with WEST SYSTEM products, of course!"
---
The Oyster Cracker

Joe Finn of Storm Port Boatworks, Homosassa, Florida, has launched The Oyster Cracker, a shallow draft, diesel-powered flatboat. Joe says, "Lots of WEST SYSTEM Epoxy went into this build. The rocks up here take their toll on props and boat bottoms." This design is based on W. Atkins Rescue Minor. She will run in 8″ of water and gets 270 miles to a 9-gallon tank of fuel. The boat was built right side up in a jig and is polished off with a yacht finish and mahogany trim. Storm Port Boatworks, 352-628-2983.
---