By Kirk Williams
In 2010, I was given a commission to do a base relief sculpture for the Pioneer Care Center, a new retirement home in Fergus Falls, Minnesota. The sculpture, called "Creation of Life" was to be mounted on a wall about 14′ off the floor. I knew I had to make it strong and lightweight. The method I used was to sculpt the design in oil based-clay on a large wooden easel. Then I covered the finished clay sculpture with several layers of clear silicone, occasionally adding cheesecloth for build up and strength. When the silicone was thick enough, I built a mold cradle, made of plaster and gauze reinforced
with heavy metal wire over the silicone. When the mold cradle had dried, I removed it and the silicone mold and laid them flat.
I made a mixture of 105/205 epoxy and added bronze powder until it was the consistency of chocolate frosting. 105/205 gives me enough time to mix and spread it into the mold, but sets up within about an hour, making it possible to start another application. The epoxy/bronze mixture was buttered into the mold by using two fingers (gloved) to an eggshell thin layer, to avoid any possibility of air bubbles. When this cured I built up reinforcement layers using epoxy mixed with chopped fiberglass and Christmas tree flocking. For additional reinforcing I embedded heavy wire and small iron rods.
After the final epoxy application had cured, I attached the sculpture to a wooden frame with wires embedded in the back of the sculpture. With the frame standing vertically I gently pulled the silicone mold from the sculpture. I trimmed the rough edges with a Dremel® tool. Buffing the surface with steel wool brought out the metal, and gave me control over the amount of contrast. Olive oil rubbed over the surface gave the sculpture a smooth patina.
The 8′ long sculpture weighs less than 150 lb and was lifted using a scissor lift and hung 14′ above the floor level with ease.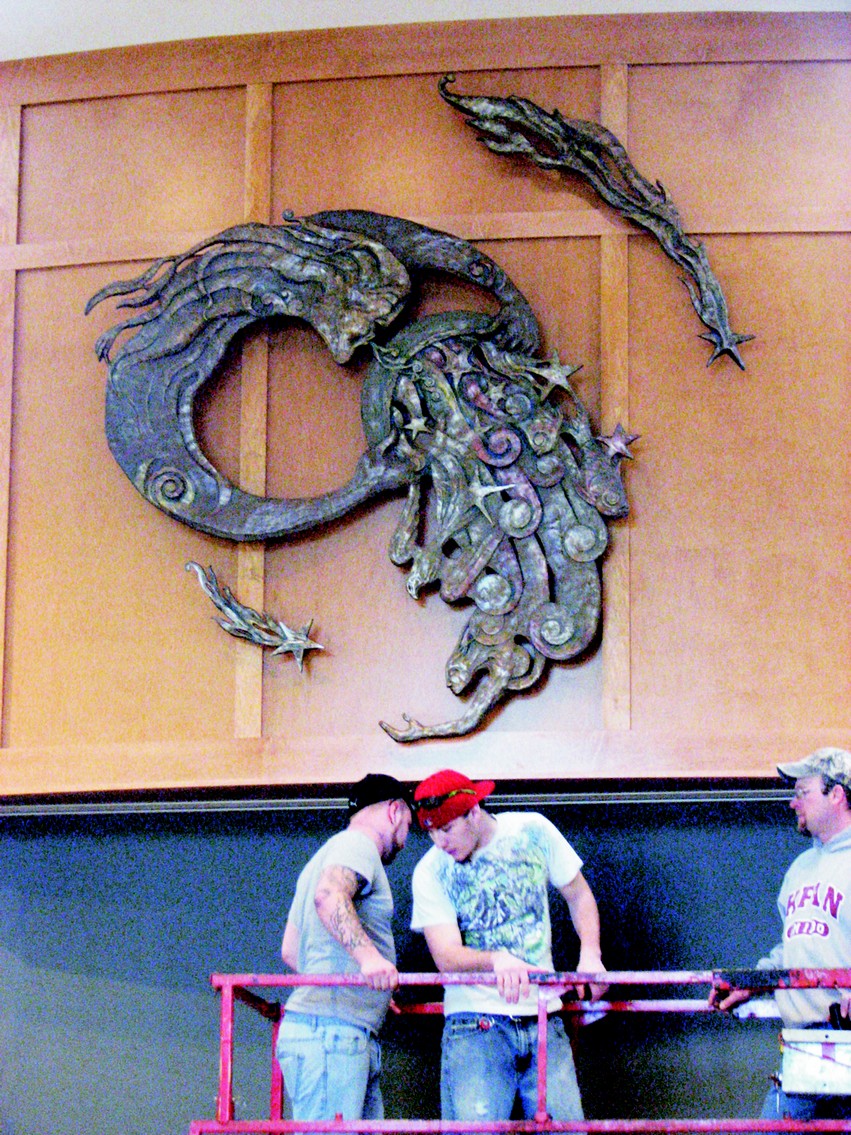 5. The sculpture weighed only 150 lb and hangs 14′ above
the Care Center floor.