By James Powers
Shortly after bringing Babka home, James and his wife decided she deserved a sturdy and handsome dog house to protect her from snow and rain.
The day after Thanksgiving 2020, we adopted a 60 lb. dog from a shelter in Danbury, CT. She came with a plastic bag of turkey scraps and not a lot of info.
I thought we might have accidentally got a Leonberger pup, but a DNA test showed we had a mutt with no dominant breed. My wife and I named her Babka because of her heavy double coat of black and brown. In hindsight, we were lucky. Babka is relaxed, rambunctious and playful. She is good with children. Perhaps she had come from a family.
Oddly, the shelter had given us strict warnings against leaving Babka outside in the cold. This was a conundrum, as Babka seemed quite comfortable napping in snowdrifts, delicately slurping flakes off the seat of our picnic bench, and lumbering about the premise disguised as an abominable snowman. Dragging her inside in the evenings entailed bribes in the form of choice cuts of skirt steak and sautéed shrimp (with the shell on).
Soon enough, Babka made it clear that she was OK with the fluffy dry snow, but the wet wintry mix was simply unacceptable—especially, if she was going to focus on her career. Her job had thankfully evolved from displacing all our shoes, scarves, and mittens into the yard every morning to guarding the premises against deliveries and other scurrilous interlopers lurching out of suspicious dark vehicles. After negotiation, we agreed that her working hours were 8am – 6pm, with the possiblity of overtime shifts on weekdays (paid under the table with skirt steak). We also agreed that she urgently needed a sturdy handsome Dog Haus commensurate with her commitment to our health and safety.
I threw together a makeshift shelter and hit the drawing board to design the real thing.
In my initial research, I was appalled at the abundance of dog houses designed as shrunken human homes with ill-conceived blind spots and misplaced suburban ornamentation. The dominant style did not adhere to the fundamentals of modernist canine architecture, ie. "form follows function". The physical and emotional necessities of working dogs, such as Babka, was being stifled by baroque pre-fabs. Now this was a housing crisis!
In desperation, I turned to my bookshelves, and revisited a standby—Soviet Bus Stops by Christopher Herwig. As a young graduate student in the early 2000s, Herwig trekked the former Soviet Union documenting the remnants of a mostly defunct continental bus network. His research goes further than the brutalist Communist concrete structures we would expect and brings to light some incredibly unique designs from obscure rural areas in the Soviet satellite states. There was an unusual lack of bureaucratic supervision given to the craftsmen and architects involved in this bus stop project in the later era of Brezhnev. What results is a diverse array of buildings that mirror the cultural and geographic diversity that Russia had struggled to mask for decades.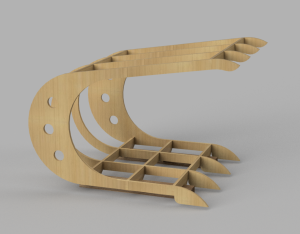 With some of these cool forms mulling around in the back of my mind, I started laying something out in a CAD program. Returning to observe the makeshift shelter through the course of a couple snowstorms, it was apparent that a considerable overhang was needed to give adequate protection from the gusts of rain and wind. There also had to be a really wide field of view so Babka could keep tabs on the neighborhood at a glance.
While it might appear she was snoozing she absolutely wasn't…
I used my CNC to cut the ribs out of marine fir. Alexander Bender from Tri-Lox, a millworks and wood salvage company, had gifted us a pile of redwood scraps from a New York City water tower. This became the cladding. I basically strip-planked the redwood—running a bevel on the strips for the curves.
When the first warm spring weather arrived, I flow coated the entire structure with several coats of WEST SYSTEM® using the 207 Special Clear Hardener®. The redwood was quite old, delicate and porous in places, but the WEST SYSTEM Epoxy did a fantastic job of soaking in and adding structure without drawing attention to itself. I was worried that if I used too much, the surface would start to look like a bar countertop. That wasn't an issue. The hue of the redwood was foregrounded.
I finished off with another several coats of spar varnish for UV protection. (After two years, and comparing photos, I haven't noticed any distinct yellowing. I will reapply a few coats of Epifanes® this summer to stay ahead of that.)
No sooner had I put a blanket down, and Babka was inside her new dog house. She's there snoozing (working) from dawn to dusk, all year round. At the height of the summer she may retreat into her kiddie pool, but if it threatens to rain, we know where to find her.