by Don Youngblood
I built this 1929-design Pietenpol Air Camper in my single-car garage, with the final assembly at Pickens County Airport, LQK, South Carolina. Construction over a 6-year period used about two gallons of WEST SYSTEM Epoxy. I "hammer tested" scrap wood joints after each mix had cured—wood always split, never the epoxy joint.
Installation and Technique
The photos show the complete airframe prior to installing the fabric cover, cockpit and systems routing views, and the fiberglass cowling before I painted it. I made the cowling over a cardboard and plaster of Paris mold which I'd lacquered and waxed. Then I laid strips of 4-cross-ply fiberglass cloth over it. I kept the cowling wet with WEST SYSTEM Epoxy until I'd completed the fiberglassing. For the finish, I used auto primer and automotive gloss paint (for fuel durability), matching the fuselage with Rustoleum® blue aerosol paint.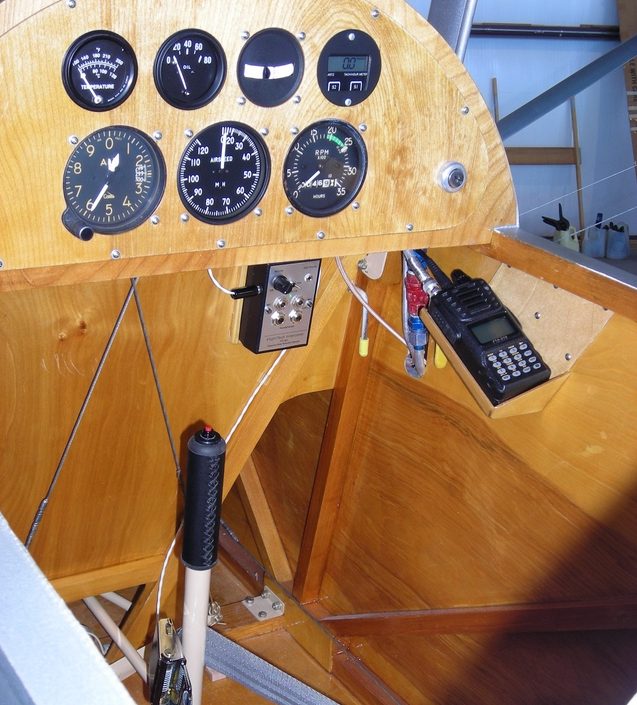 Cockpit controls and gauges.
Materials and components
The materials I used were FAA approved Sitka Spruce, 5-ply aircraft plywood, steel plate and tubing, and aluminum plate and tubing. The engine is a 75 hp Continental, with wheels and brakes from a Cessna 150. The plane's empty weight is 676 pounds and it can accommodate a pilot weight up to 225 pounds.
Pietenpol's air miles and history
I have flown it 13.2 hours as of 7/28/18. It flies true, indicating 70 mph at 1,900 engine rpm. Its maximum speed is 88 mph, and the touchdown speed about 40 mph.
The covering is heat shrink fabric coated with household latex paint, Rustoleum aerosol paint on the trim, and automotive clear top coat. I now keep it at Oconee County Airport, CEU, South Carolina, about a half-hour drive from home.
The designer, Bernard H. Pietenpol, is deceased. I bought the plans from his son. For a complete history and construction details on this amateur design—which originally used the Ford Model A engine—visit pietenpols.org.