Single Outrigger Motorboat
Russell Brown designed and built this single outrigger motorboat for his friend Josh Sutherland. Although not completely finished when the photo was taken, it was "pretty well tested and didn't seem to have any really bad habits," says Brown. It is 24′ long and built fairly ruggedly. It uses a 20 hp Yamaha four-stroke and goes about 18 knots with three people on board.  Russell, the son of legendary boat designer Jim Brown, designs and builds foils, boats, and other composite projects in Port Townsend, Washington. Visit www.ptwatercraft.com.
---
Herreshoff's Buzzards Bay 15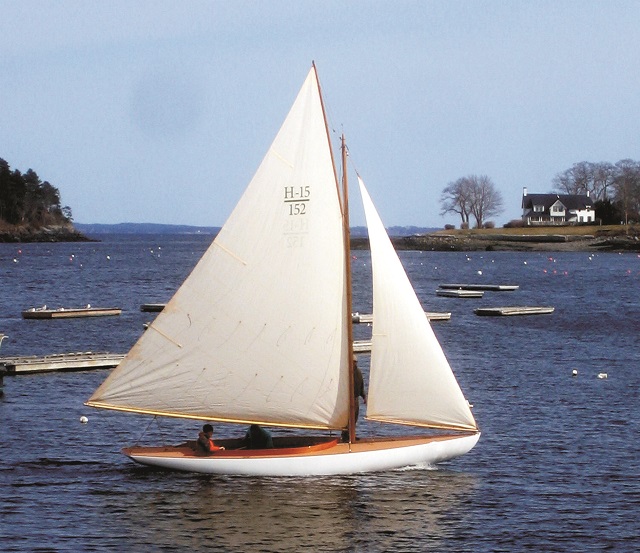 Alec Brainerd of Artisan Boatworks announced the launch of a full keel version of Herreshoff's Buzzards Bay 15, built for an owner in Newport, Rhode Island.
---
The "Tigercat II"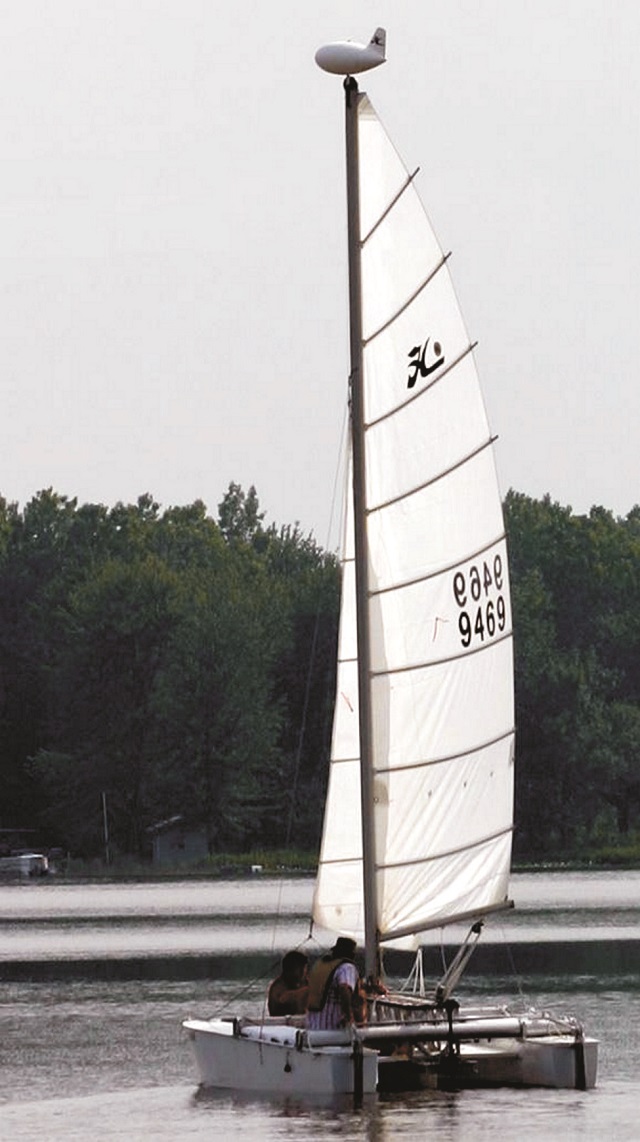 Ted Clark of LaGrange, Indiana, built this Tigercat II. He stiffened the fiberglass hulls with aluminum trusses bonded to the insides of the hulls with epoxy/microballoons and pop-rivets. A key design feature is the use of a single centerboard allowing very fast 180-degree reverse courses from a bean reach in about one hull length. The hollow boards are oriented strand board laminated with WEST SYSTEM Epoxy and covered with fiberglass.
---
Former Gougeon Tech Advisor's Latest Project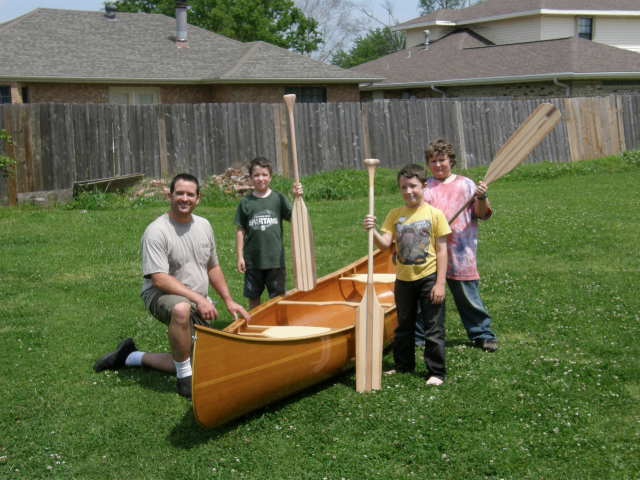 Patrick Ropp, former Gougeon tech advisor, now U.S Coast Guard Commander living in Houma, Louisiana, sent a few pictures of his latest project. The stripper was built with WEST SYSTEM 105/207 and 6 oz. cloth over western red cedar. He coated the outside, when the temperate was in the 90s, so the bubbles created from the roller flowed out just perfectly after his dad tipped it off behind him. He applied two coats of Cabot's satin spar varnish over two coats of Captains varnish on the inside of the canoe, "so as to keep the glare down whilst padding on those days.
---
Built Two Ice Boats so they could Day Sail with Their Wives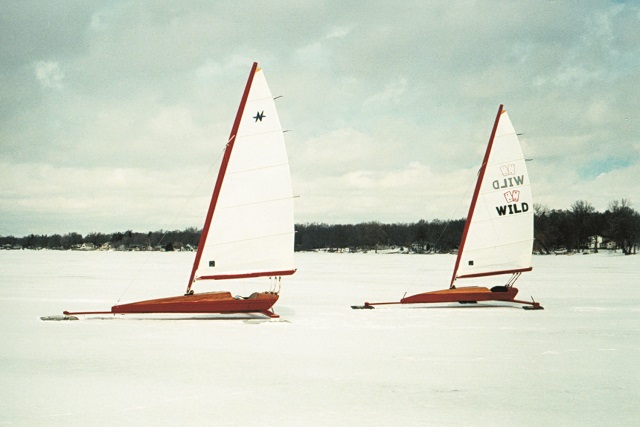 Dave Pratt and Chuck Van Deventer from Sturgis, Michigan, decided to build two ice boats they could day sail with their wives. They found plans for a Nite, a side-by-side, two-seater iceboat, All component wood parts were built of basswood in Chuck's wood shop. The metal parts were fabricated in in Dave's metal shop. Chuck's boat was finished in 2006, Dave's a year later. Chuck and Dave belong to the Gull Lake Ice Yacht Club near Kalamazoo.
---
"15′ Bob's Special"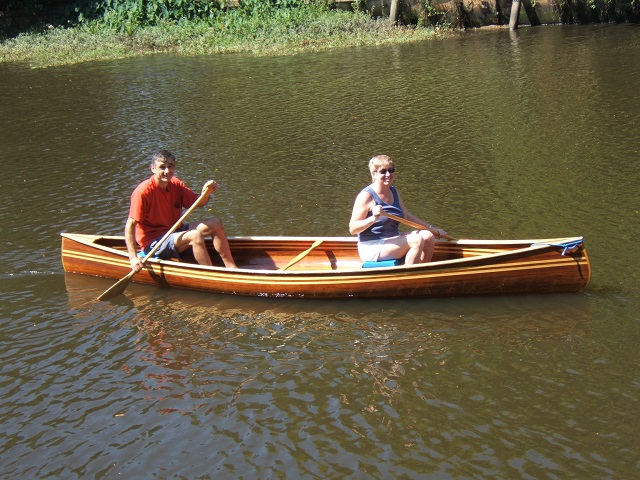 Tom Watson sent this photo of the 15′ cedar/epoxy canoe and 105/207 epoxy. The hull is western red and white cedar, with ash gunwales and deck inserts made from a variety of wood including maple, teak, and mahogany. One paddle is ash, the other spruce, and cedar—both laminated with epoxy. Watson tells us, "it was a lot of fun to build, and your system was flawless," The design is the "15′ Bob's Special" from Bear Mountain Boats.
---
Runabout Design from Scratch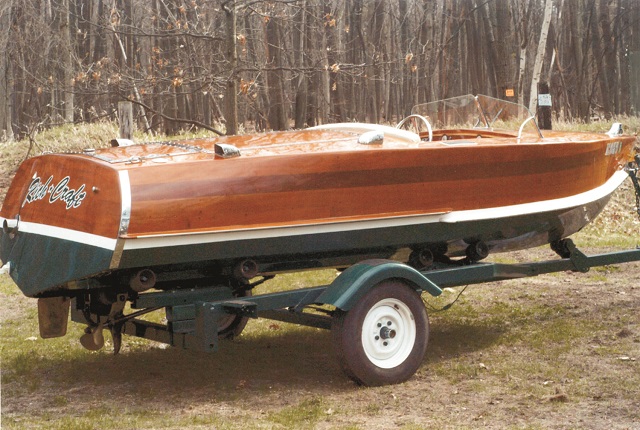 Rich Jeric from Caseville, Michigan, built this runabout design from scratch. It was his first boat building project after retiring as a high school football coach.