Huialoha
We built Huialoha about eight years ago with no blueprints or plans. We started with several pictures of lobster boats from New England and did a Hawaiian version. He had 100 sheets of 3/8" (9.5 mm) marine plywood and about 50 gallons of WEST SYSTEM Epoxy. It took three months to do the hull and the boat in the water. The cabin was added while the boat was in the water. I am still working on the interior teak trim. Every time I go down to the harbor to work on it, I get distracted by Hawaii's beautiful weather and end up going out for a cruise and swim instead!
Huialoha is 32′ (9.7 m) LOA with an 11′ (3.3 m) beam and an 18″ (.45) draft. It is designed for inshore use in Kaneohe Bay, Hawaii. We have two barbecue grills on the stern and just added a marine stereo system. The boat is named Huialoha after a historic church on Maui I helped restore. "Hui" in Hawaiian is a group that gets together for a common purpose. "Aloha" means love, so "Huialoha" is a group that gets together for love. —Jim Cook
---
16′ Hawaiian Canoe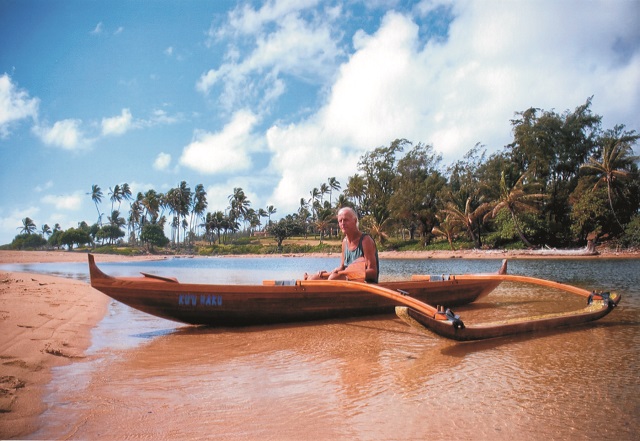 Terry Livingston, of Lihue, Hawaii, designed and built this 16′ (4.8m) Hawaiian canoe, built with a "variety" of woods. The hull is strip-planked with redwood and some western red cedar. Gunwales are western red cedar. Water tight bulkheads are vertical gained fir and mango. Splash guard and manu are kamani. Seats are Tasmanian blue gun and the ama is redwood over a foam core. The paddle is also laminated with WEST SYSTEM Epoxy. You can see more Terry's work at www.customcanoepaddles.com.
---
Cruising Sharpie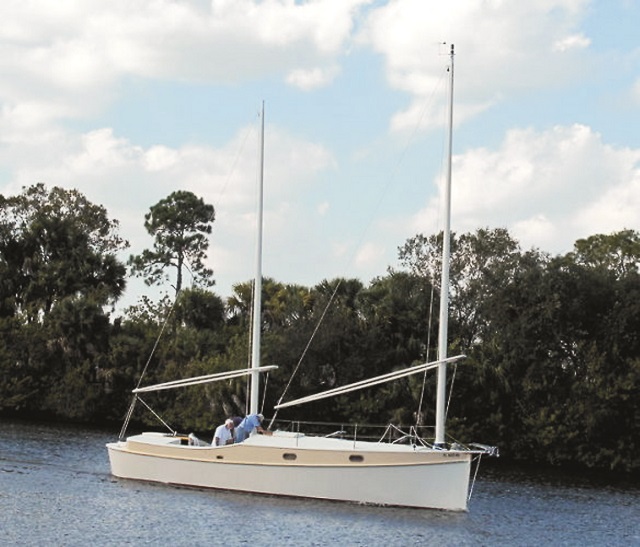 Karl Stambaugh provided the design for this 36′ (10.9m) Cruising Sharpie. Ron Gabriel, Palm City, Florida, used WEST SYSTEM Epoxy to bond okoume plywood over straight frames and bulkheads with a healthy amount of fiberglass and epoxy to seal her up.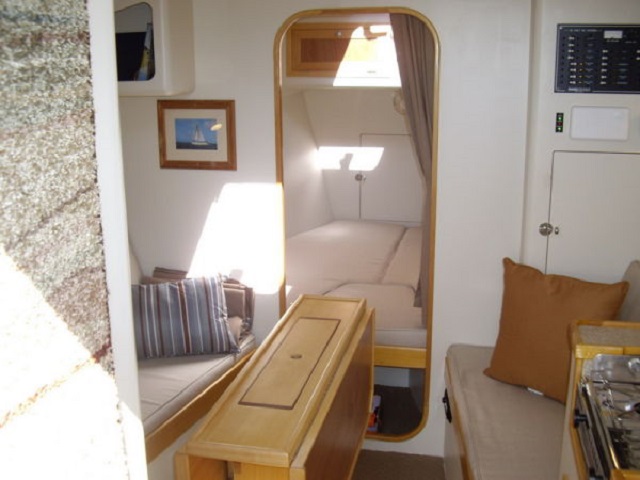 She has accommodations for four. Although designed for day sailing and weekending, the Sharpie 36 has longer range capabilities for extended cruising. A shallow keel and weighted centerboard provide stability for this sharpie to stand on her feet in good wind conditions. She has twin rudders behind skegs and will sit upright if left to dry out on a ebb tide.
---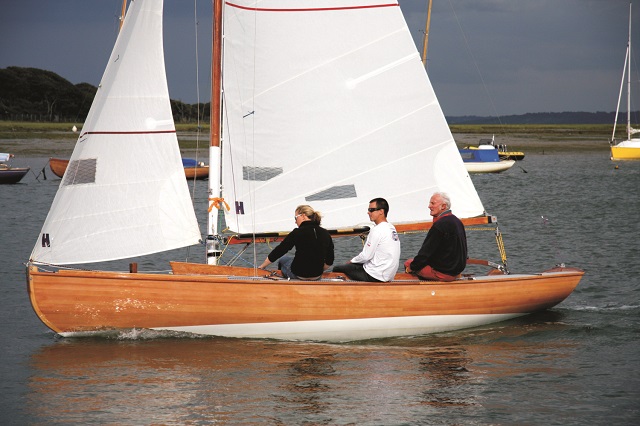 Olympic sailing medalists Pippa Wilson, Nick Rogers and Ado Jardine named, launched and took the first sail in Xoanon the latest creation of the XOD (X One Design) class sailing boat at The Royal Lymington yacht club in July, 2009 in Lymington, England.
The idea to redesign the X boat was the brainchild of Ado and Stewart Jardine. Yacht designer, David Alan-Williams, provided the lines for the templates to make the hull is as faithful as possible to the original 1911 lines. By using WEST SYSTEM Epoxy products and the technical support from Wessex Resins, the team of volunteers were able to build a Douglas Fir, tongue and groove strip plank boat, glued and coated using epoxy, with a subsequent epoxy impregnated glass fiber layer inside and out; thus, creating a boat which is considerably easier to maintain each year, reducing the annual maintenance costs and more importantly a big reduction the initial build cost. Wessex Resins & Adhesives, manufacturers of WEST SYSTEM Epoxy in England, helped sponsor the project.
---
Recently Completed "Ellen"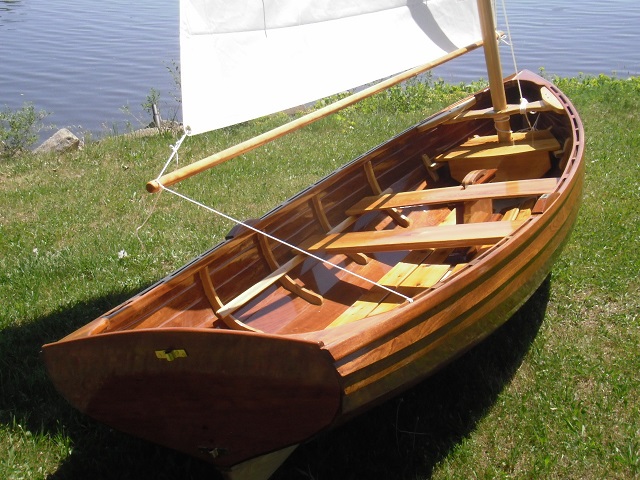 The boat building class conducted by the Saginaw Bay Community Sailing Association of Bay City, Michigan, recently completed Ellen a 12′ (3.6 m) sailing skiff. Ellen's lapstrake hull was built by instructor Bill Bauer in a class he took at the WoodenBoat school. Seats, flooring, centerboard, rudders, spars and finish work were completed by the local class. Ellen was auctioned off to raise money for the SBCSA.
The SBCSA class has started the second "Ellen." The strongback, hull forms, bow stem, transom and keelson were fabricated and set in place in 2009. In 2010 the second "Ellen" will be planked up, and if time permits, the class will start to finish out the hull.
---
The BlackFly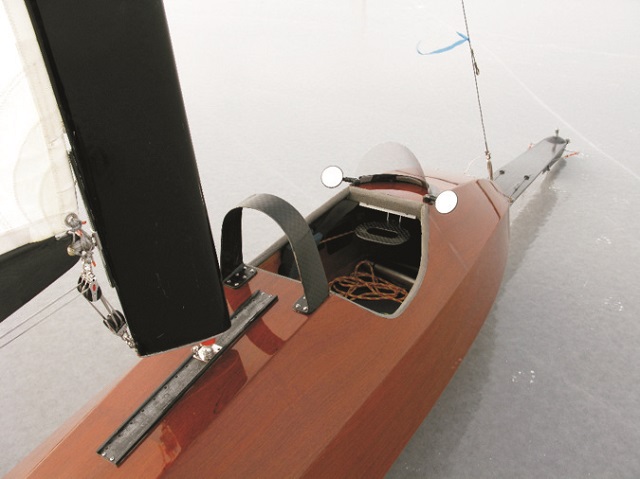 Dicky Saltonstall of Rockport, Maine, sent these photos of his latest iceboat design called the BlackFly. The BlackFly is an alternative of DN guys who still want to car top but also would like a bit more boat. All up this boat is about 60-70 lb. (27-31 kg) (heavier than a DN but it has a much more powerful rig. The mast is 20′ (6 m) and the plank is 16′ (4.87). A springboard adds about 5′ (2.5 m) to the fuselage.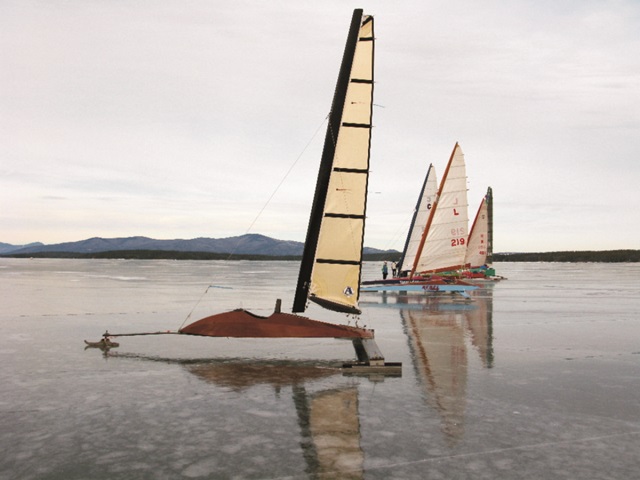 "It is a front seat ride, which is a lot safer and allows the boat to be better balanced," says Saltonstall. The fuselage is the same length as a DN with a windshield and mirrors which can be folded out of the way. The design is a tortured plywood stitch and glue project. The wing mast is Core Cell foam and carbon. Saltonstall also says all he ever uses are WEST SYSTEM Epoxies. For more information about the BlackFly iceboat send an email to [email protected].