Jan Gougeon's monumental launch occurred in July of 2011, over a decade after the birth of the project. Jan passed away on December 18, 2012. We miss him. —ED
---
by Grace Ombry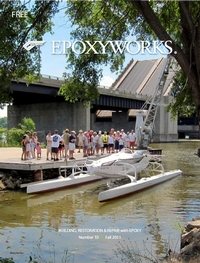 Ten years ago in Epoxyworks 17, we published the photo below with the following caption: In the recess of the Gougeon boat shop loft, something unusual is taking shape out of plywood, foam, carbon fiber and epoxy. There is a minimum of plans and drawings. It evolves, piece by piece, mostly from its creator's head. It's not a trimaran. Not exactly a catamaran. Technical you probably wouldn't call this a hull. It's more of a fuselage. (There is an aircraft canopy involved.) For now, let's call it Project J. We'll keep an eye on this project in coming issues and see what develops.
Project J, later upgraded to the nickname Project X, was christened Strings
Jan's goals for his "folding cat with a fuselage" were that it be easy to sail solo or double-handed, self-righting, trailerable, with a shallow draft, and have a big enough footprint to be a serious offshore contender. The most important criteria? "You don't have to be a spring chicken to sail it," Jan said.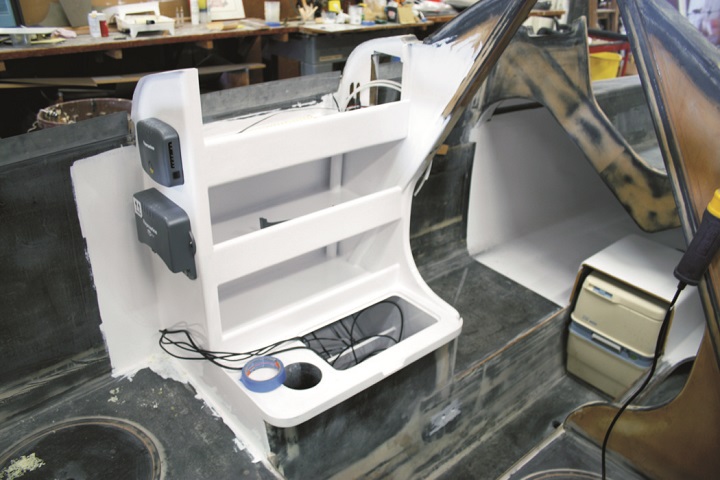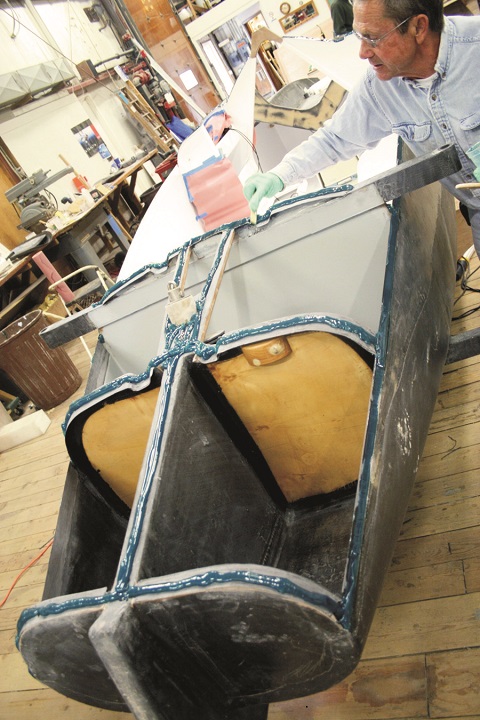 Strings meets all of Jan's goals, from the sleek pair of 39′ 7″ foldable hulls flanking the fuselage, which rides high and dry about 2′ above the waterline, to the soon-to-be-made roller reefing mainsail and roller furling/ reefing jib. When folded for trailering, the boat is just over 8′ wide. The fuselage is small but has an effective galley. Jan said the cabin "Can sleep four very friendly people with enough room left over for each to bring along a toothbrush and a sandwich."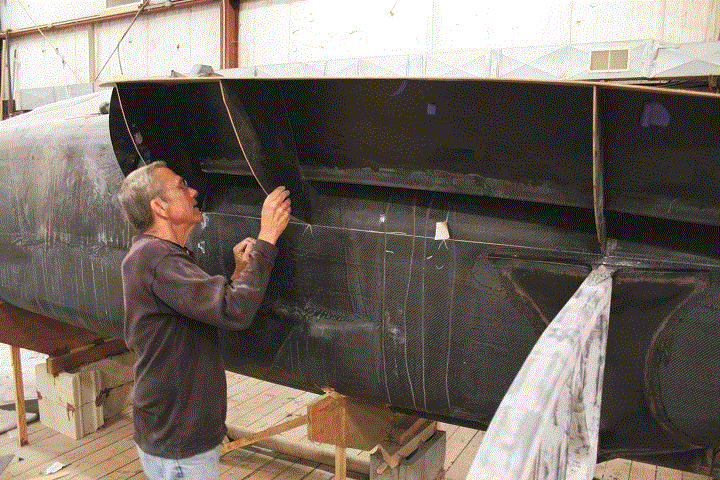 Strings specifications

LOA 39′ 7″
Beam 14′
Draft – boards up 9″
Draft – boards down 4'9″
Displacement 2,000 lbs
Sail area upwind 575 sq ft
Sail area downwind 1,000 sq ft
Single and double-handed sailing are accommodated by the roller furling sails, self-draining fuselage, easily filled and emptied water ballast in the hulls. From the rigging to the hulls, to the ballast and the rudders, everything is controlled like a big marionette by lines to the cockpit—hence the name, Strings.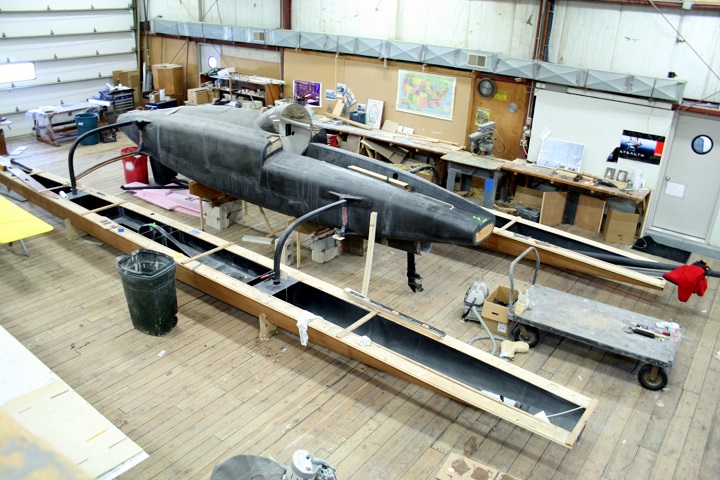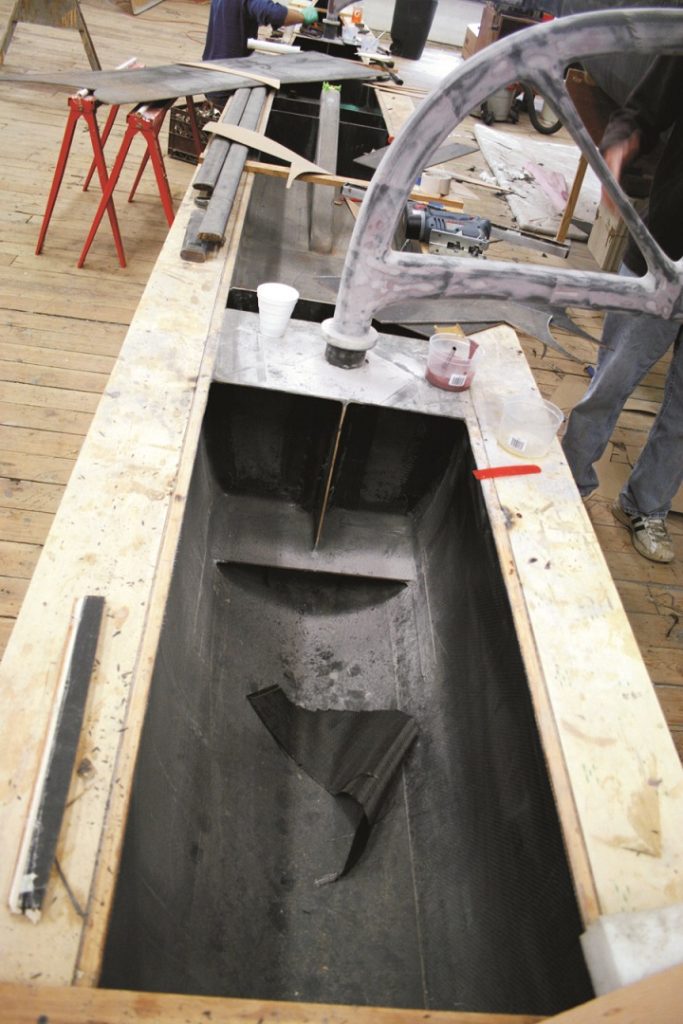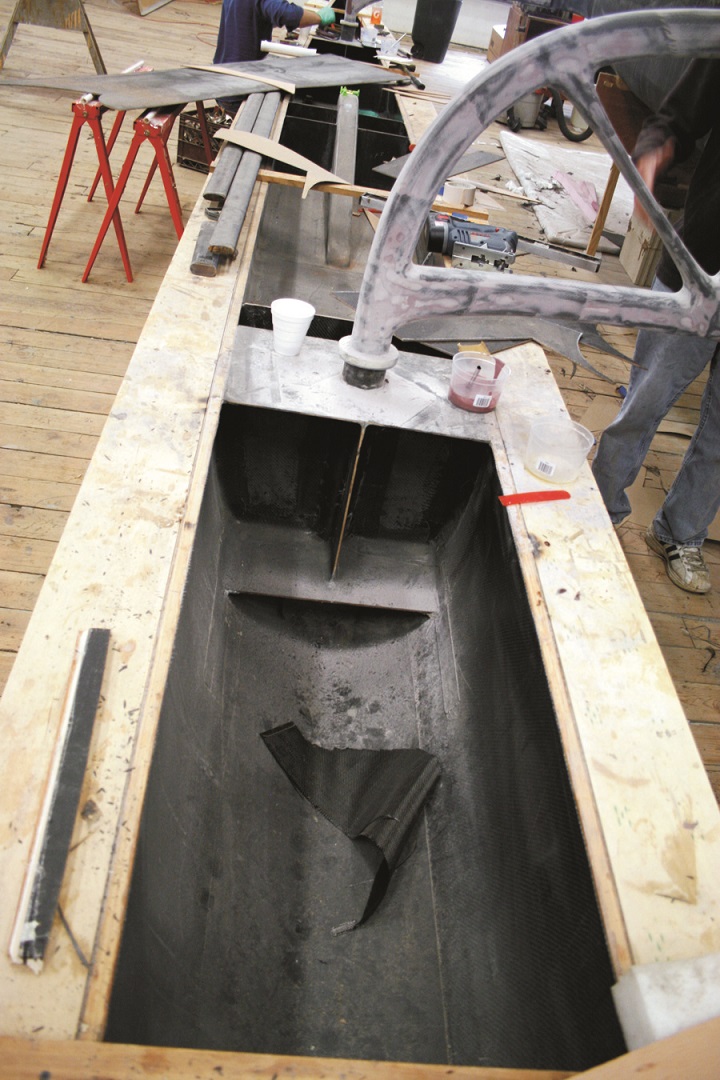 Some favorite design tricks included on Strings are kick-up rudders. "It was always easier to build those than to learn to navigate," joked Jan. Water ballast was also used on Gougeon's G-32 catamarans, and self-righting has been a staple of Jan's multihull designs ever since his trimaran Flicka turned turtle in the Atlantic during an OSTAR qualifying race over 30 years ago. Jan survived four days in Flicka's overturned hull contemplating multihull design before a passing freighter rescued him. Strings goes about 9 mph with its 6 hp motor which when needed, tilts down out of the bottom of the fuselage. At this speed the forward ballast tanks in each hull will fill with 850 lb of water in about 7 minutes. The rear tanks will fill with 150 lb of water in about 2 minutes. With gravity on their side, they drain much faster.
With the fuselage supported, Jan demonstrates the folding hull, Open to its full 14′ width (left) and folded against the fuselage (right) to a trailerable 8'—when both hulls are folded. With all of the components in place, the exterior was filled and faired with epoxy/410 Microlight®. Weeks of sanding was followed by high-build primer, more sanding and a final paint job by resident boat builder, Greg Bull.
Jan expects Strings, with its relatively small rig, will really fly in heavy air. Of course, Strings has yet to be sailed. The mast and roller-reefing boom are still under construction as we go to press. Also on Jan's list of things to do is design and build a masthead float with 600 lb of displacement for the top of the 34′ 6″ mast.
Left—One of the many details on what Jan calls the most complicated boat he's ever built. Three lines control each pair of intake and exhaust bailers(that's twelve lines to control four tanks). A pressure gauge measures the depth of the water in the ballast tank and gives a quick read of the level from the cockpit.


Right—Finally, the day before launch, all components are painted and assembled. No longer Project X, Strings has her name and numbers. Hardware is installed and functioning. She is ready to be dropped onto her trailer for her short move out to the crane next to the slip.
Strings is a little bit like Nathanael Herreshoff's Amaryllis—the first catamaran sailboat patented in the US, way back in 1876. Herreshoff's design- with long, narrow hulls and a center cabin that road out of the water- was so forward-thinking and effective that it was banned by the New York Yacht Club. Jan thinks he and Herreshoff would have gotten along just fine.