Renovo Hardwood Bicycles
Meade Gougeon was intrigued by the Renovo Bikes company of Portland, Oregon after spotting their wares on display at the Wooden Boat Festival in Port Townsend, Washington last fall. Meade has long been a serious cyclist and understands better than most the value of wood as an engineering material. He saw in Renovo an opportunity to combine two of his great loves, wood, and bicycles.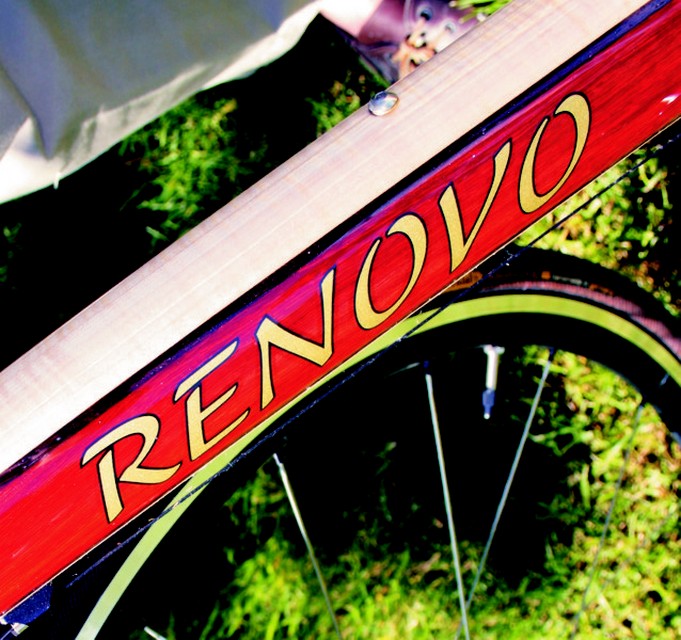 The remarkable, bright finished looks of Renovo bikes are secondary to what they have to offer the serious cyclist. The ride is incredibly smooth and quiet and the bikes are responsive, lightweight and have excellent frame stiffness. Renovo frames are hollow wood and laminated bamboo, materials that offer excellent performance in designs that maximize their strengths.
Meade commissioned Renovo to build a bike for him of wood and WEST SYSTEM® Epoxy, and the results were beautiful. Renovo team member Ken Wheeler describes Meade's bike frame: "The center wood is curly maple outlined with a pinstripe of wenge. The outer laminate is padauk. The stays are outer layers of wenge with centers of Port Orford cedar. The front triangle is as stiff as carbon Cervelo S2 (very stiff). The rear triangle has about 80% of the stiffness of S2 to provide a smoother ride."
Renovo Bikes started their business with a clean CAD screen and a few sticks of wood. In the three years since, they've shipped wooden bikes to countries around the world, are internationally respected for their designs, and have some fresh ones nearly ready to release. Their focus from the beginning has been quality over quantity. Some of their very early bike frames have logged over 10,000 trouble-free miles and still look as good as new. From the beginning, Renovo has worked to refine and improve their frame designs, maximizing wood as an engineering material.
Having begun to reach the stage of diminishing returns, lately, they've turned their attention to increasing their production rate. Renovo has been optimizing their designs and manufacturing processes; they've built new fixtures and tooling; added skilled employees to every area and increased their operations space from 5000 to 7500 square feet.
The result has been a dramatic increase in production capacity with no loss of quality.
Boo Bicycles

Another maker of fine wooden bikes is Boo Bicycles of Fort Collins, Colorado (with manufacturing facilities in Vietnam). As you might have guessed, Boo Bicycles makes its bikes from bamboo. The company's founder, Nick Frey is a professional cyclist, a multiple national cycling champion and a mechanical engineer who recently graduated from Princeton. As with Renovo, these are high-performance bikes despite the seeming novelty of their chosen frame material.
Frey chose bamboo for frame construction because bamboo is similar in structure to carbon fiber reinforced plastic. Bamboo's tensile strength and stiffness offer excellent rigidity. The dense longitudinal fibers in bamboo tubes give it a strength-to-weight ratio higher than that of steel. Bamboo vibrates much less than steel, providing an extremely smooth ride.
Boo Bicycles uses a variety of bamboo known as "iron bamboo" or dendrocalumus strictus, which is very stiff and resilient. They grow their bamboo near their facility in Ho Chi Minh City, and harvest a year's supply when it matures. The four-month drying process calls for baking the poles in the sun then placing them in a dehumidified drying room. Their moisture content is monitored to prevent splitting, and poles are pre-stressed to determine strength before they're selected for bike building.
Boo Bicycles miters the bamboo tubes, fits them into a custom jig and tacks them together with epoxy. This part of the construction method is the same one used on steel or titanium bike frames. They then wrap the joints in carbon fiber applied with epoxy, compress the fibers to remove excess epoxy and allow all to cure in a temperature-controlled room. After they are sanded, hand signed, serial numbered and decals are in place, each frame is finished with a tough lacquer.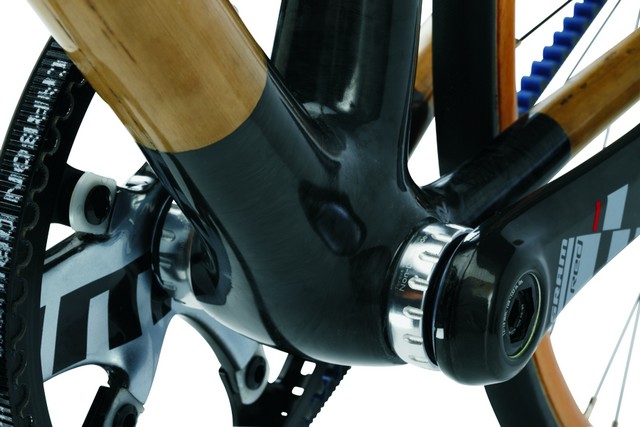 Boo Bikes' bamboo frames are as durable as metal or carbon and should be treated like any normal bike frame. They are sealed against water with a thin coating of WEST SYSTEM Epoxy inside the tubes, which prevents expansion and contraction of the bamboo fibers. According to Nick Frey, bamboo is better at absorbing impact than carbon fiber.
Both Renovo Bikes and Boo Bikes make competitive, highly functional, durable and beautiful bikes for the serious cyclist.
Visit Boo Bicycles to learn more about these outstanding companies and their products. Renovo Bikes, unfortunately, closed their doors in 2018.